Breakdown Towing
131 TOW's roadside assistance and breakdown towing services are second to none and our customer service is always efficient and friendly.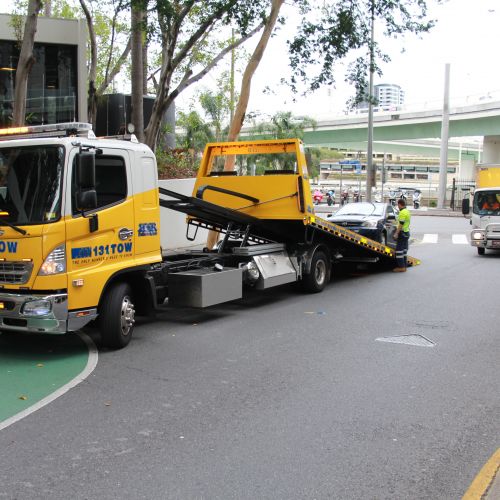 Nothing can throw a spanner in your plans quite like getting stuck on the side of the road, or the middle of it, thanks to a car breakdown. The experienced team at 131 TOW is here to quickly transport your vehicle to safety. Our call centre operates 24 hours a day, 7 days a week. No matter what time of the day or night you break down, we are able to assist you.
Our breakdown towing services are second to none and our customer service is efficient and friendly. With a fleet of 300 modern tow trucks you can breathe easy knowing one of our drivers is never far from your location.
To ensure the wellbeing of you and your vehicle, all our industry-accredited trucks are equipped with the newest equipment, technology and GPS tracking software. All vehicles are also fitted-out with the best equipment for optimum road safety, including flashing arrow boards, which alert passing traffic of your broken down vehicle.
With our extensive fleet, we are able to provide safe and efficient service, no matter the type of vehicle you operate. In fact, we can transport just about any vehicle, anywhere in Queensland.
Whether your truck's engine is not performing, your motorbike won't start or your prestige car's tires have been damaged, we tow your vehicle to safety, without causing any additional damage. This remains true even for low suspension cars – we use special low tow tilt trays to ensure performance and prestige cars are transported appropriately.
At 131 TOW, our primary concern is keeping you and your vehicle out of danger and getting you towed as fast as possible without damaging your car. Contact us for more information on our breakdown towing services and remember to call 131 TOW when you're in a jam.